Subscriptions
---
The Art Fair SourceBook provides listings for 1,300+ art shows and craft fairs. Top selling shows feature reviews, ratings, rankings, and critiques. Directory information is offered in a variety of online subscriptions.
It's the MOST COMPREHENSIVE & CREDIBLE SOURCE in the business!
Art Show and Fine Craft Fair Listings, Reviews, Critiques, Ratings, Sales and Attendance Data
---
• Comprehensive, in-depth reviews of the 600 top-selling events nationwide.
• Each show is critiqued annually, based on direct input from exhibitors at the most recent event, via the AFSB Exhibitor Feedback Postcards and online AFSB Event Report System.
• All events are rated, based on the average net sales of responding exhibitors.
• Reviews are fully indexed and cross-referenced by show date, application deadline, location, rating, odds of jury acceptance, and attendance.
• Provides access to individual online Artist Reports submitted for each show
• Create a customized list of art fairs that are of interest to you (MyAFSB). Track application status and sales and keep general notes. Includes Profit Calculator.
• Greg Lawler, an experienced exhibiting artist, personally attends shows each year and talks to hundreds of artists to gather information on listed shows for his Editorial reviews.
• AFSB provides customer support via phone and email including personal access to Greg Lawler to assist with your use of the SourceBook.
• ZERO RISK TO YOU - 100% MONEY BACK GUARANTEE If you are not satisfied with any AFSB online product, let us know immediately. A full refund will be issued for any online subscription cancelled within 7 days of activation. To cancel, phone (503.704.5122) or email Contact Greg Lawler.
The SourceBook Offers Big Benefits:
---
• Saves time by providing comprehensive information on shows in one convenient place.
• Saves time in researching all factors for choosing the right shows for your work.
• Saves time by providing extensive searching and sorting options - view as a list, or in a calendar or map format.
• Find new shows as well as keep up with how older shows are changing.
• Saves money by helping you AVOID MISSED DEADLINES!
• Saves time & money — Avoid investing in shows that are wrong for your work!
• Customer Testimonials

---
National Subscriptions
Volume 1 (MOST POPULAR!) contains the 300 TOP-Selling Art Fairs and Craft Fairs Nationwide: the "A" shows... "The Best of the Best"!
$349 (1 year); $579

Volume 2 contains the 300 Next-Best Selling art fairs and craft fairs throughout the country; the "B" Shows... lower sales average, but less competitive to jury into, and still good for many exhibitors. The online version of AFSB also includes over 700 additional "unrated" shows.
$329 (1 year)

AFSB Essential Directory of Arts and Crafts Events: Online one year subscription provides access to ESSENTIAL BASIC info: Critical Dates- Start, Apps Available, Deadline, Jury Notify, Refund Deadline, Balance Due; Organizer's Contact Info; Event Location map; Organizer's Promotional Message; How Exhibitors are Selected details including jury method, scoring; Financial Data including App and Booth fees; Setting Info, including Security, Electric, Generators, Parking, Load-in and more; Exhibitor's Media, including how many artists of each medium are expected at the event. A MUST have for all artists who want to know about and keep track of the possible marketing opportunities available!
$99 (1 year)
NOTE: This limited access subscription does not provide access to Greg Lawler's Editor's Opinions and Commentary nor Sales History, Ratings and Rankings based on Average Net Sales reported by exhibitors at the events. This advanced information is only provided in our full access online subscriptions.
Regional Subscriptions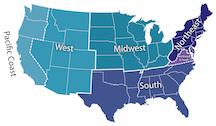 Each of five regional subscriptions contain all events from Volumes 1 and 2 within each geographical region:
Northeastern Region: Over 125 Top-selling art fairs and/or craft fairs along the Eastern seaboard - The "A" and "B" shows from Maine to Virginia. Plus over 180 unrated events.
Southern Region: Over 175 Top-selling art fairs and/or craft fairs throughout the South - The "A" and "B" shows from FL north to VA, and as far west as TX and OK. Plus 250 unrated events.
Midwestern Region: Over 175 Top-selling art fairs and/or craft fairs across the Midwest - The "A" and "B" shows from Ohio and Kentucky out west to Kansas, Nebraska and the Dakotas. Plus 225+ unrated events.
Western Region: Over 140 Top-selling art fairs and/or craft fairs throughout the western states - All "A" and "B" shows from NM, CO, WY and MT westward to and including the Pacific Coast states. Plus 200+ unrated events
Pacific Coast Region: A subset of the Western Region including about 70 Top-selling art fairs and/or craft fairs in CA, OR, and WA. Includes all "A" and "B" shows in these states. Plus 120 unrated events.
Regions Except Pacific Coast:
$199 each (1 year)
Pacific Coast Region:
$149 (1 year)
Click on Regional Map for a list of states included in each Region.

Special Packages - Save $$ on packaged products!
State Subscriptions
Select one state or a group of individual states. Includes all listed art fairs and/or craft fairs in selected states. Pricing varies from $9.95 to $79.95 per year depending on the state.
AFSB Online Format
---
• Advanced Search by location, keywords, show dates, show ratings, attendance, odds of jury acceptance, and more.
• Sort lists by show date, deadline, location, rating, or attendance
• Share reviews of art fairs with other professionals
• Continually updated with accurate information
• Create your own customized list (My AFSB). Record detailed notes about any listed event – track your application status, sales and keep general notes on images used for jury, etc. Also includes our Profit Calculator.
• Dynamic Mapping Feature lets you display your Advanced Search results on a map of the USA where you can zoom into specific areas and use Google maps to calculate distances between zip codes to help with your travel planning.
• Interactive Calendar Feature which lets you display your Advanced Search results laid out on a calendar, showing both show and deadline dates. Move your mouse over each date to display all the important information about that show and link to the show's full page.
AFSB Online Deluxe Tools Upgrades
---
Online Editions Deluxe Tools Upgrades add invaluable features to your online subscription:
Platinum Level - Adds Email Notification Service which will notify you of upcoming critical dates for the shows you choose to add to your MyAFSB. You can receive emails for the Show Date, Application Deadline Date, Refund Deadline Date, Balance Due Date, and more. You choose the dates for which you want to receive the reminders, virtually eliminating your chance of missing an important art event! $99/year
Diamond Level (MOST POPULAR!) - Platinum Level Features PLUS ten years of historical sales data on rated events to help you best understand the trends and select shows that will likely be profitable for YOU! $149/year